Product Description
Produced from Stainless Steel wire, which is cold drawn (profiled) to form a diamond shaped wire. The wire is helically coiled to produce a wire thread insert. The finished insert provides a high performance, heat and corrosion resistant internal thread which is far stronger than parent materials such as Aluminium and Magnesium alloys.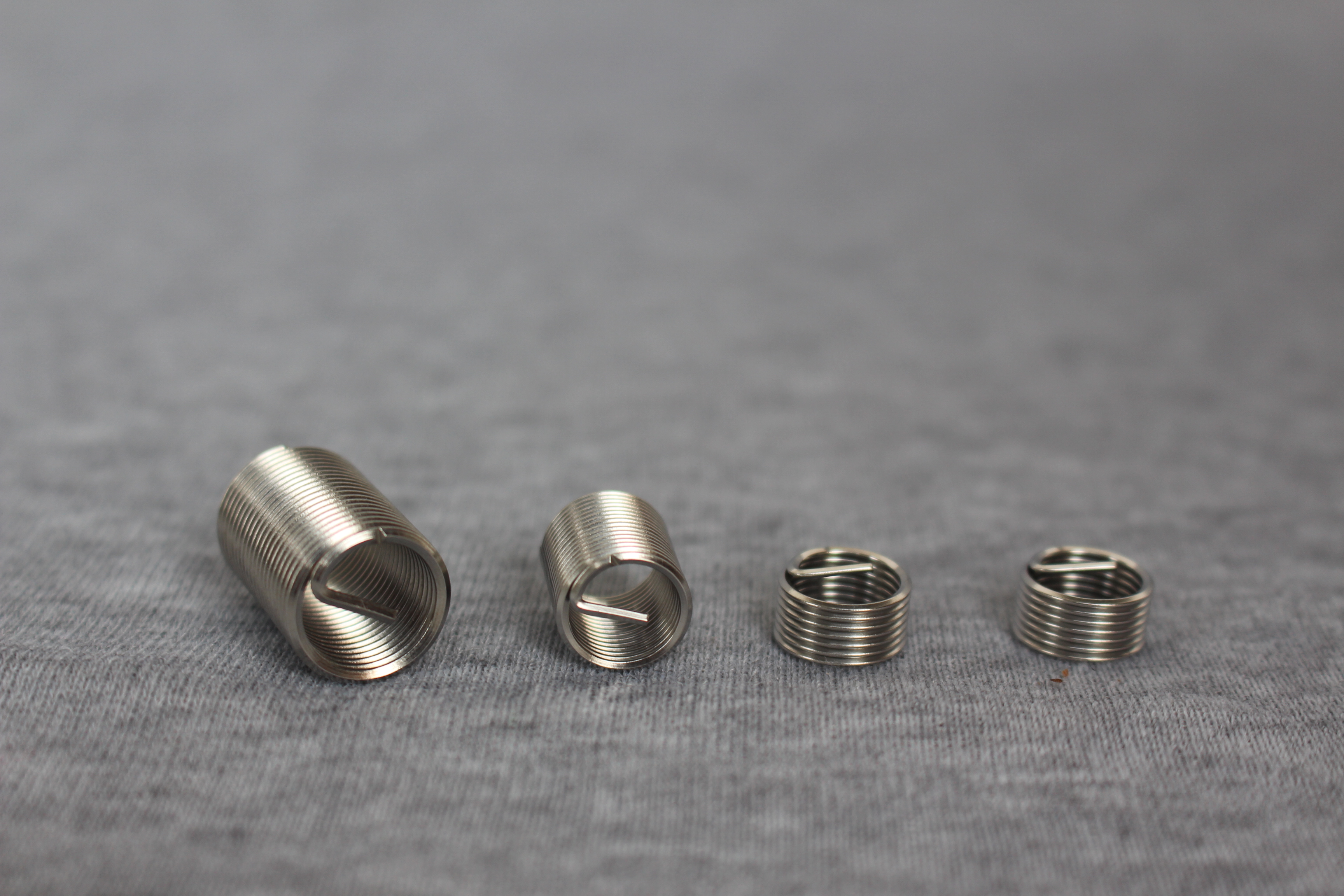 Larger in diameter than the tapped hole, it is compressed during installation providing maximum surface contact between the flanks of the wire insert and the tapped threads.The flexibility of the Wire Thread Insert enhances the load bearing capacity by deflecting the residual forces into a helical, which is dispersed into the wall of the tapped hole.They are easily installed using a range of manual or automatic tools. Once fitted the action of radial pressure between their coils and the flanks of the tapped hole holds them in place.
The description of threaded inserts
Threaded Inserts are cylindrical, metal bushings with features on the outside which lock them into a plastic or metal base material to anchor your fasteners. Our Threaded Inserts provide high-quality, permanent, wear-resistant internal threads and are designed to be installed in molded or drilled holes in one simple step. While each style performs in a range of materials, they are generally classified by method of installation: Thread-Cutting, Thread-Forming, Push-In, or Ultrasound.
The application of threaded inserts
Threaded Inserts are designed to improve the strength of assemblies by distributing forces from the fastener over a large area in the base material, thus increasing the load-bearing capability. For metals such as aluminum, this means full utilization of high-tensile-strength fasteners. In plastics, Threaded Inserts avoid wear and cold-flow problems encountered with thread-forming screws. Threaded Inserts offer both engineering and cost economies.
The benefits of wire thread inserts
Corrosion resistant
Combat wear in threaded components
Resist the effects of temperature
Maintains bolt tension under severe vibration conditions
Permanent wear-resistant screw threads exceeding parent material strength
You can have any length, pitch or material.
Special lengths, pitches and materials can be manufactured to meet individual customer requirements.