The connection is firm:the wire thread insert`s diameter under the normal state is larger than the loading of a screw hole`s, when assembled by the special installation tools make it smaller in diameter, rotating into special install holes, wire thread insert after assembly in the bottom hole thread of a screw effect similar to the expansion of the spring, so that it is firmly fixed in the thread hole.
Extended service life:because of the stainless steel material, it has a high hardness, which can increase the service life of the soft foundation threads tens to hundreds of times.Increase the strength, also avoid the losing, and the wrong tooth.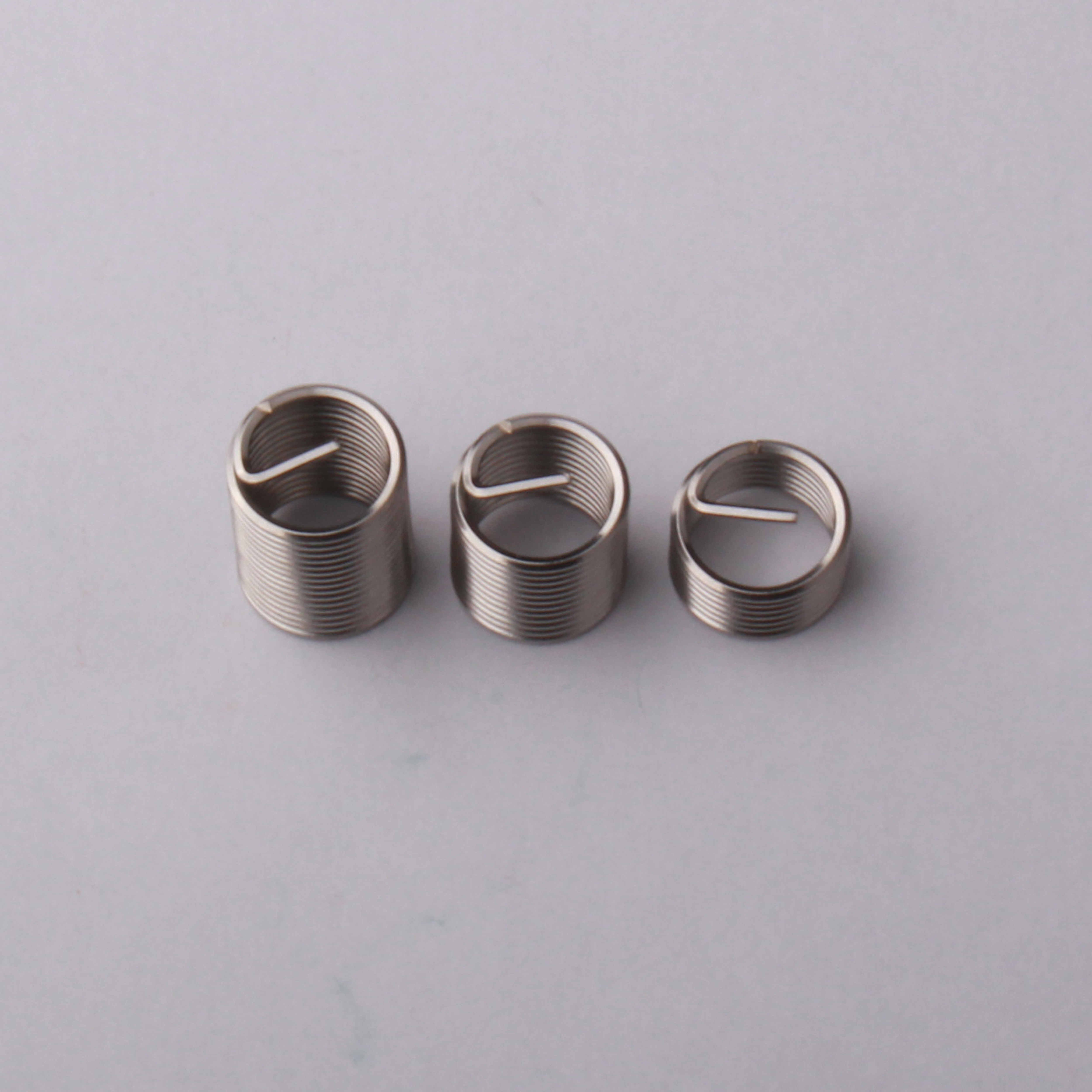 Increase the connection strength:the wire thread inserts can be used for aluminum and magnesium, wood, plastic, rubber and other easy deformation and low strength materials,which can avoid slipping,wrong teeth and other phenomena.
Increase the stressed area:wire thread insert can be used to require strong connection without increasing the thin body parts of the screw hole diameter.
Improve the connection conditions: increase the carrying capacity of the threaded connection and the antifatigue strength: using the wire thread inserts can eliminate a deviation between screw bolt and screw hole about the pitch and tooth type,to make uniform distribution load, and improve the carrying capacity of the threaded connection and fatigue resistance.It can be used for fastening of hard brittle materials such as ceramics, electric wood and glass.Effective prevention of fragmentation.
Wear-resisting:wire thread insert sets by the extremely hard cold rolled stainless steel wire precision winding, helical surface hardness can reach HRC43 ~ 50,the surface like the mirror which can be up to 2 ~ 4 mu m to reduce the friction and wear,it can make the screw on the torque generated by the friction and reduce 90%, thus with minimum tightening torque can get the biggest to the tightening torque and screw pull, prevent the screw loose, make the material of all the screws in the best state.
Rust prevention:wire thread insert the characteristics of material itself and its surface is smooth, used in moisture, corrosion and other bad environment, will not make with the matrix of rust, avoided because of rust threaded holes can't remove and replace the expensive matrix loss.It can be used in chemical, aviation, military equipment and other requirements of high insurance coefficients.
Heat resistance and corrosion resistance: due to the smooth surface of the wire thread inserts, it can effectively reduce the friction between internal and external threads, and the material itself has the characteristics of high temperature resistance and corrosion resistance.It can be used for assembly, mounting of machine parts and regular spiral holes to prolong its service life.